Have you ever seen a man in a suit walking down the street and thought to yourself, "He doesn't look that slick," but you know why? It's most likely because he's breaking one of these rules.
So, if you have any upcoming weddings, graduations, or debs, refer to this list, and you'll be one of the classiest males in the room.
Buy A Suit Online Or Offline?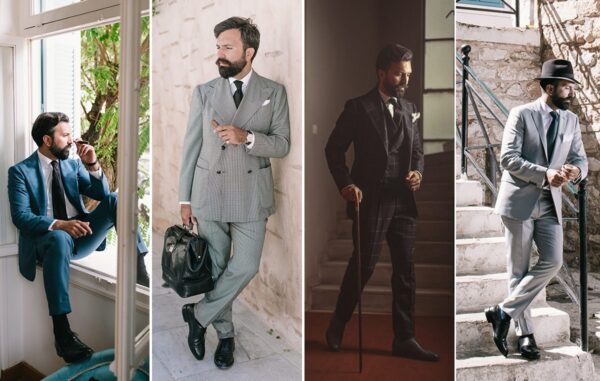 The initial step is to decide whether you'll buy your suit online or offline. Which is the superior option? That is dependent on your personal preferences.
Buying A Suit Online
If you're looking for choices, the greatest place to look is online.
Nothing matches shopping online for ease. You can get a custom suit while wearing your underpants and enjoying a beer at 2 a.m.
Buying A Suit Offline
If you need a suit right away, you'll have to go into a store.
Go to a higher-end menswear store for customer service; you may spend 30 minutes with a professional who can determine your body type and which designs and colors will look best on you.
Below are the 32 golden rules on how to wear a suit:
1. The Golden Rule
Make sure your jacket's cuff is no lower than the base of your palm and no higher than your wrist bone. A solid rule of thumb for pants is to make sure the hem touches the top of the shoe without a pause.
2. Set Your Budget
You should budget between $200 to $2000 for your first suit – or your first suit in a while.
Suits come in a considerably larger price range in reality. In a thrift store, you can spend $10 or $5000, and in Savile Row, you can spend $5000. However, most males will locate a great-looking suit around the $200-2000 range.
Do you require a more exact number? Budget half your monthly wage for the suit and everything else that comes with it. That includes the shoes, shirt, and belt, all of which will be discussed later.
You're going to hear the words' off the rack', 'custom,' and 'bespoke.'
'Off the rack' refers to ready-to-wear clothing. That outfit is simply sitting on a rack, awaiting your purchase. This will be enough for the vast majority of individuals, and you'll get the greatest prices here.
It's constructed to fit your measurements out of different pre-cut parts, whether it's labeled as "custom" or "made to measure." If you're hard to fit, this is an excellent choice.
'Bespoke' implies it's built to your exact requirements from the ground up — you speak, and the tailor listens. Ignore custom for your first suit. Bespoke suits are a work of art, but they come at a significant price premium.
3. Never Button A Suit Jacket's Bottom Button
Never, ever do it. Ever. This is the most common and worst mistake that men make when wearing a suit. It doesn't matter if it has two or three buttons if it's single-breasted or double-breasted. Only the center button on the jacket should be closed. Therefore that's the only one you should close. Ignore the one on the bottom; it's only for show. Oh, and unbutton the jacket again while you're sitting down. If you don't, the jacket will appear odd on you, and the form of the jacket may be ruined.
4. Canvas Over Bonded
Always go for canvased suits over bonded suits if at all feasible. When wet, the natural fibers in half or full canvas will quickly revert to their former state. Because a bonded suit is attached, it will get crinkly and crispy with time, which you do not want.
5. The Fit
When it comes to suits, fit is essential. Your blazer's shoulder should be the same length as your shoulder, not longer. Also, the buttons on your blazer should not be too tight or too loose. There will be extra material around your waist if your outfit is too loose. Make sure the trouser sits comfortably on top of your shoes, with no excess fabric hanging free.
6. Always Button Your Shirt's Top Button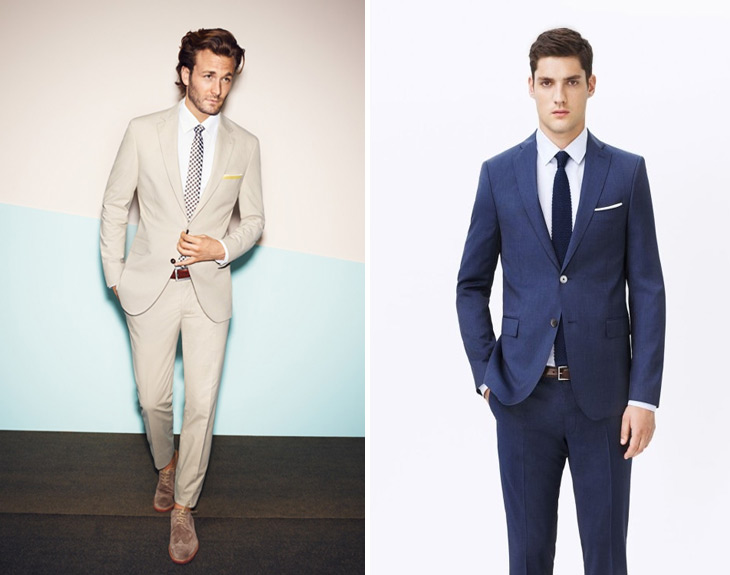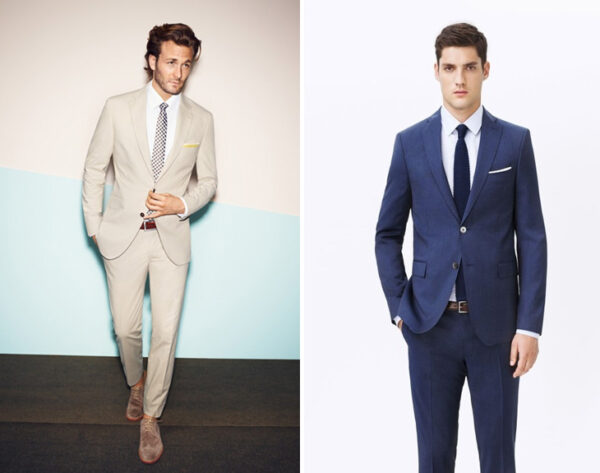 Unlike a jacket, a shirt requires you to utilize all of the buttons, and if you can't shut the top button without choking, you should buy a new shirt. If you leave it undone and pull the tie to the top, you're not fooling anyone. The lines of the shirt collar don't match up, and you won't appear sleek at all. Of course, when the after-party dancing begins, feel free to let your hair down and even knot your tie over your head. But keep that sucker shut till the dance begins.
7. Choose The Right Fabric
Make sure you've dressed appropriately for the season. In the summer, linen and cotton (even some types of ultra-high twist wool) are appropriate, whereas, in the winter, cashmere, tweed, or merino are suitable. Shivering and sweat spots are both unattractive and preventable.
8. Wear Minimal Accessories
Check to see whether you're over-accessorizing. Do not wear the tie bar, pocket square, cuff links, and lapel pin all at the same time. If you're wearing a tie, a simple pocket square or lapel pin will suffice.
9. Wear The Right Kind Of A Waistcoat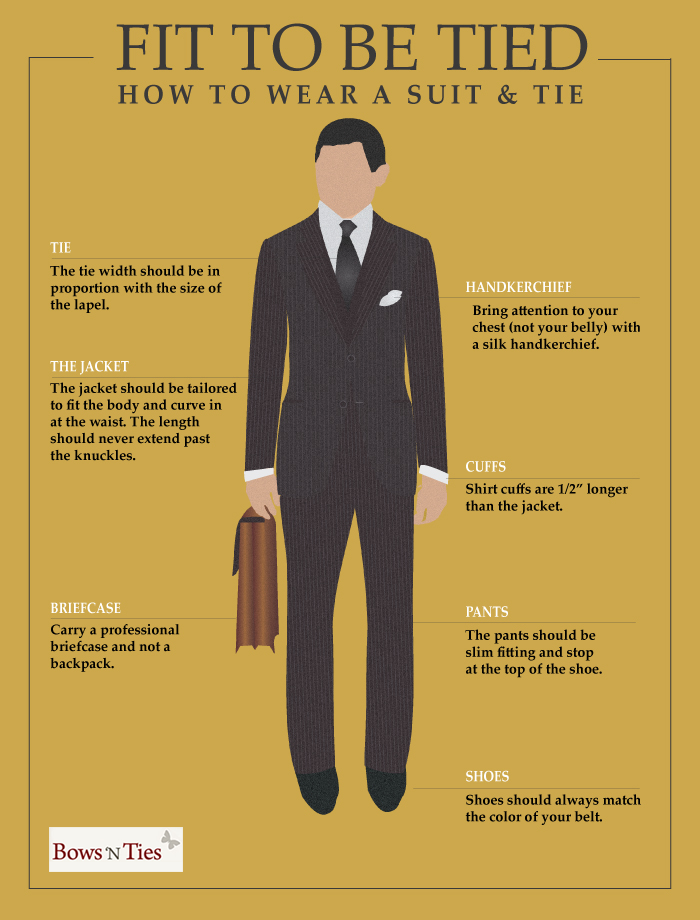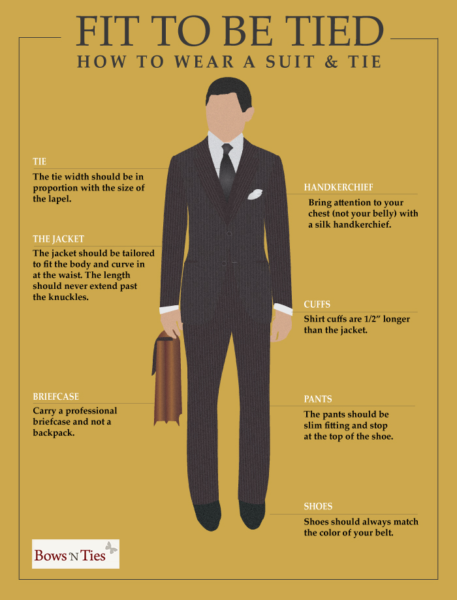 If you're wearing a three-piece suit, choose a waistcoat that complements your outfit. Check that the waistcoat sits slightly above the belt. Always button up your jacket to minimize flapping sides and a sloppy appearance.
10. Your Shirt Cuffs Shouldn't Go Over Your Hands
Your shirt cuffs should be thin enough to sit just over the start of your thumb on the top of your palms. If you can fit your hand through the cuff while it's buttoned or fastened with cuff links, it's too broad, according to a decent rule of thumb (I love puns).
11. Get The Length Right
Always make sure your jacket skirt completely covers your seat. Short coats do not look good on anyone, even slim people. On almost any body type, a full-length jacket with a nip at the waist will look great. There's a reason it's been a rule for so long.
12. Your Jacket Should Fit
This seems like a no-brainer, yet a lot of males break this guideline. Your suit's shoulders should embrace your own, there should be no space between your shirt's neck and the collar of your jacket, and the jacket sleeves should be approximately a half-inch shorter than your shirt sleeves. If you wear anything else, the jacket will be too big for you. But be careful not to stray too far in the opposite direction. Skinny-fit suits are trendy right now, and they can look great, but you should always be able to button the jacket and put your hand easily between the breast and the shirt.
13. Know How Many Shirt Sleeve To Show
Make sure your shirt sleeve does not protrude more than a centimeter from behind your jacket cuff. A large gap will make your jacket's sleeve appear overly short.
14. Your Trousers Should Fit
The tops of your shoes should barely touch the tops of your pants. They appear bunched up and baggy if they're too long, and you can see your socks if they're too short. Neither of which is a appealing appearance.
15. See A Tailor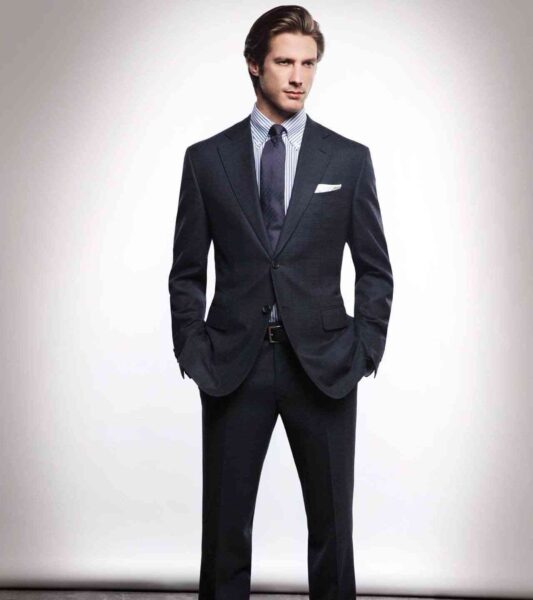 If in doubt, go for made-to-measure or bespoke if you can afford it. Nothing beats having a suit tailored to your measurements. Take your off-the-rack suit to a tailor and get the appropriate adjustments made. This is a low-cost approach to ensure that your suit will look nice regardless of how much it costs.
16. Your Belt Should Match Your Shoes
Many men choose to wear a brown belt to stand out and make the suit appear lighter than if they wore a black belt. This is completely OK, as long as you also wear brown shoes. There are no exceptions to the rule that the color of your shoes should match the color of your belt. This should also match if you're wearing a watch with a leather strap. You might think this is simply being OCD, but it works, and your suit will look a million times better if the colors match.
17. Pick The Right Footwear
If at all possible, avoid wearing any footwear with a suit. In the summer, if worn properly (and you're under 35), box-fresh white sneakers can work, but in reality, you should only ever wear a suit with loafers, derbies, oxfords, or monk straps.
18. Your Shoes Should Complement The Color Of Your Suit
There is some flexibility here in mixing and matching, but some combinations should never be attempted. Brown shoes, for example, should never go with a black suit, and black shoes should never go with a brown suit.
19. Understand What Suits Your Frame
It's a question of preference when it comes to deciding between double and single-breasted suits. However, if you're on the shorter side or have a stocky build, a single-breasted design will truncate your frame, while a double-breasted style would elongate it. Single-breasted suits, as well as double-breasted suits, look excellent on taller, thinner figures.
20. Your Socks Should Always Cover Your Legs
You put in all the work and look fairly badass in your suit, but then you sit down, and your hairy legs are visible between your socks and your trousers. Double-check that your socks are long enough. Wear socks that are the same color as your pants if you want to make your legs appear longer. Wear Power Ranger socks instead. It makes no difference as long as they're long enough.
21. Don't Over Accessories Cuff
Wear no more than three pieces of jewelry with your suit. If you're wearing a three-piece suit, your waistcoat should be treated as an accessory, and your outfit should be built around it. If you wear a three-piece suit with a pocket square, tie, and tie pin, you risk seeming overly formal. The number three is a lucky number.
22. Your Tie Should End At Or Just Before Your Belt
This one may need some trial and error while getting dressed because determining the right location of the knot can be tricky, but it's well worth it. If you're not wearing a tie, you shouldn't be able to see any of your shirt buttons, and you shouldn't go past your belt when standing up.
23. Follow The Button Rules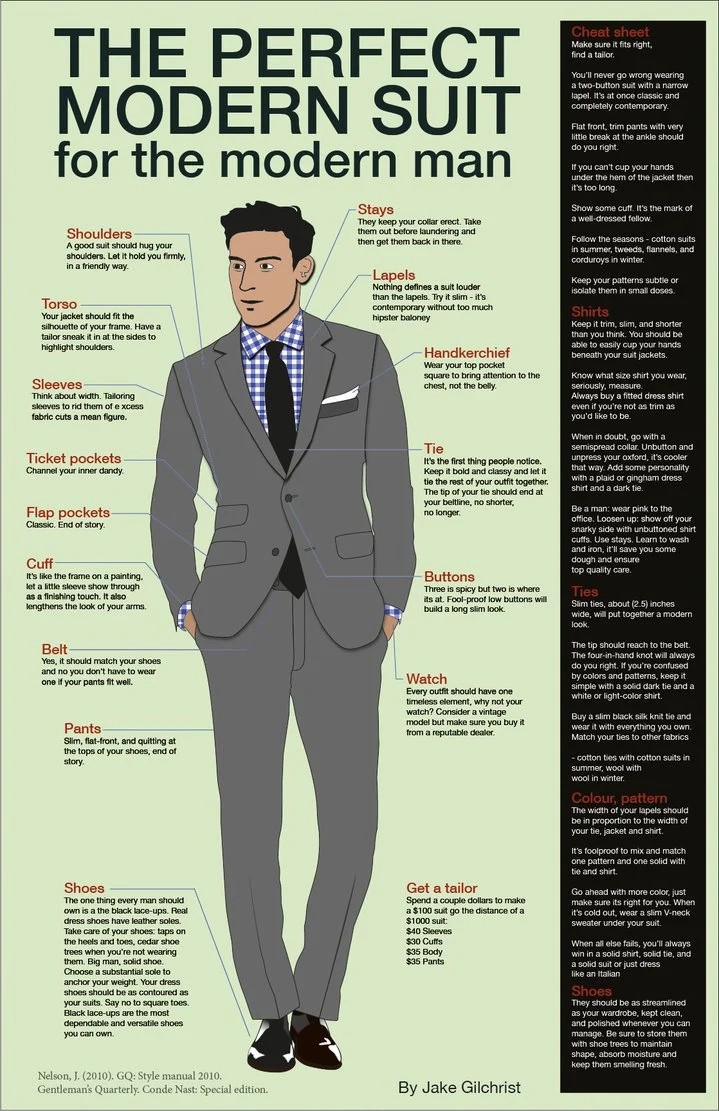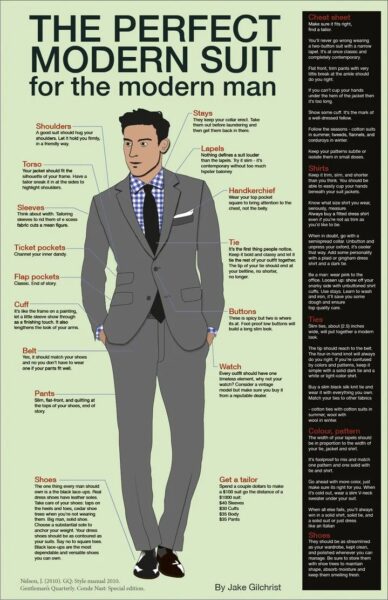 Make sure you follow the buttoning regulations whether you're wearing a double-buttoned or single-buttoned jacket. Check that the buttons on a single-breasted jacket shut without strain, indicating that there are no creases or straining. Always keep the last button open on a double or three-buttoned suit. This helps to avoid a tighter 'X' shape and improves the fit of the jacket.
24. Waistcoats Should Also Finish At Your Belt
Obviously, this rule only applies if you're wearing a three-piece suit, but it's still vital to follow. You'll be one of the hottest bastards in the room if you pull off a three-piece, and the trick is to make sure the waistcoat is a very thin fit, pinched in at your waist, and ending at or just below your belt. And, for the love of God, don't let your tie protrude from underneath it. You'll enjoy a youngster dressed in his older brother's hand-me-downs that don't quite suit him.
25. Your Tie Knot Should Be A Reasonable Size
Large tie knots appear to go hand in hand with ties that are excessively short; therefore, avoid both. Footballers have a tendency to do this, and it isn't very comfortable. Windsor knots are always elegant, but they may be difficult to tie. Therefore a pratt knot is an excellent substitute. It has the same form as the original but is a lot easier to knot.
26. Your Tie Should Be Darker Than Your Shirt
The darker tie will look a lot sharper than one that is lighter than the color of your suit. This isn't as important as the other two because it is more a matter of taste, but in general, a darker tie will look a lot sharper than one that is lighter than the color of your suit.
27. Check The Right Shoulder Fit
A good suit should be well-fitting at the shoulders. On the top, the seam line should finish just above the elbow joint. If you choose a jacket with padding, it should not dangle more than one centimeter from your body. Furthermore, the line of the sleeves should be straight rather than taking the contour of the muscles, which can be a huge faux pas.
28. Cut The Thread On The Vents And Pockets When You Buy It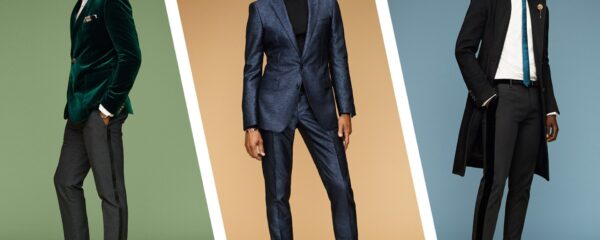 There will be a thread keeping all of the outer pockets closed, as well as the vent(s) in the back before you buy a suit. This keeps the jacket's form even when a large number of individuals come in to try it on. So, once you've decided on one, the first thing you should do when you come home is snip all of these threads. Otherwise, your jacket will dangle awkwardly while you walk, and it will not appear sleek.
29. Keep Three-Piece Suits For Big Formal Events
If you're heading to a major formal event, you should only wear a three-piece suit. If you choose a three-piece suit for a function, you must coordinate everything you wear. It's impossible to mix and match. Instead of bright or showy colors, use a subdued hue like grey.
Because a suit will last you years, you should invest in a decent fabric. You may also get a bespoke suit made for you. Yes, it will be costly, but it will be worthwhile.
30. If You're Wearing Braces, Don't Wear A Belt
The objective of braces, like a belt, is to hold your pants up, so if you wear both at the same time, one of them is plainly useless. It's the equivalent of standing beneath a bus shelter to stay dry while keeping your umbrella up. It just looks strange.
31. Avoid Carrying A Lot Of Items In The Pockets
It's all about the fit when it comes to a good-looking suit. The attractive fit of a suit may be ruined by carrying your wallet and other heavy objects in your pockets. Carry only the necessary necessities and lightweight items such as cards that will not bulge out when wearing a suit!
32. Let It Rest
Always allow at least two days between the wearing of your outfit. Fabric that has stretched in the knee, sleeve, and elsewhere will be able to relax and return to its former position as a result of this. It will help protect stress points from wear.
Now that you've learned everything there is to know about suits, go ahead and put one on.