Classic jacket, sport coat, blazer, suit jacket. Men's jackets have many names, but the differences between them are not always obvious. Many people see jackets and blazers as the same thing, except that they call the "suit jacket" what they wear in the suit and "blazer" a jacket they wear with unmatched trousers. Is it really so?
Modern tailoring is versatile, and men's clothing is becoming less understandable. However, these two must-have clothes are still different.
Each piece of clothing, such as the shoulders or the inner finish of a jacket, determines the style and level of formality. Therefore, in order to always choose the right look for any occasion, it is good to understand the difference between a suit jacket and a blazer.
The Main Differences Between the Coat and the Blazer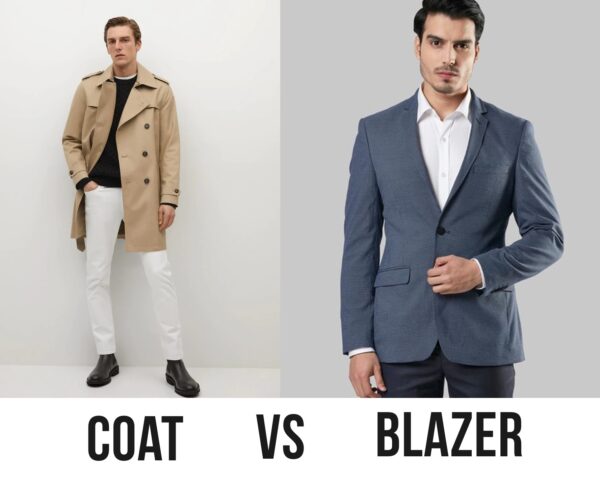 To understand the difference between the suit jacket and the blazer, it is important to know how they are tailored first. We have prepared a short introduction to the general characteristics of these coats with a list of the main differences between them.
What is a Coat?
A coat is clothing that both genders wear on the upper body for warmth or fashion. Coats usually have long sleeves and are unbuttoned at the front with buttons, zippers, fasteners, buckles, a belt, or a combination of these. Other possible features include collars, belts, and hoods.
The coat is one of the first words in the clothing category in English, dating back to the early Middle Ages. (See also Clothing terminology.) The Oxford English Dictionary traces the coat in its modern meaning to c. 1300 when it was written cote. The word coat comes from Old French and then from Latin cottus. It comes from the Proto-Indo-European word for woolen clothing.
The earliest use of the coat in English is a chain mail coat, a tunic-like garment made of metal rings, usually knee-length or mid-calf.
What is a Blazer?
A blazer is a type of jacket resembling a suit jacket but is a more casual cut. In general, a blazer distinguished from a sport coat as a more formal garment and tailored from solid colour fabrics. Blazers often have naval-style metal buttons to reflect their origins, much like the jackets worn by club members.
A blazer's cloth is usually durable, as it is designed for outerwear. Blazers are often part of a uniform that denotes, for example, airline employees, students at a particular school, members of sports clubs or athletes, and women on a particular team.
Blazers can be worn with a wide variety of clothes, from a dress shirt and tie to an open-necked polo shirt or even a simple T-shirt. They can be seen wearing trousers of all colors and fabrics, from classic white cotton or linen to grey flannel to brown or beige chinos and jeans.
Blazers in a wide variety of colors are part of school uniforms in many schools in the British Community and are still the daily wear for most uniform students in the UK, Australia, New Zealand, and South Africa. These are blazers in the traditional sense: single-breasted and often in bright colors or with piping. This style is also used by some boat clubs, such as in Cambridge or Oxford, and the piped version only used on special occasions, such as a boat club dinner.
The slim fit double-breasted navy blazer in a classic fit with navy blue buttons is a popular design sometimes referred to as a "reefer" blazer. It is now widely used in business casual wear, especially in North America and the UK.
Historically, a blazer was a sign of group membership. The term "blazer" refers to the "blazing red" jackets worn by Lady Margaret's Cambridge Boat Club. They served as a status symbol when rowers began wearing blazers on land and in colleges.
From today's point of view, the blazer is always a solid color – the most common are blue or black, which adds formality. The blazer, usually adorned with silver, gold, or brass metal buttons, is perfect option for events that used to be black tie or formal.
The navy blazer serves as an essential "go-to" in a well-dressed man's wardrobe.
How to Wear a Coat in Style
If you want to spruce up a formal look for work or conferences, opt for a dark trench coat. If you want to make it less formal, pastel colors are best. For a casual men's day, you can opt for padded coats with padding and reversible hooded coats.
For women, coat range is quite extended in both patterns and colors. You can choose from dark shades to pastel shades. Women's coat types include wool coats, trench coats, and blended coats.
You can choose between double-face coat, padded coats, and tweed coats for a busy day at work. Do you want it to be sloppy? Choose a pea coat, a reversible coat without a collar and a hood. Long knitted soufflé coats are the unconditional love of your winter fashion.
How to Wear a Blazer in Style
Styling is another difference between a blazer and a coat. If you want, you can style the coat with tailored trousers or jeans. But you need to be careful while styling blazers.
One option that never fails is to pair a blazer with your favorite khaki pants, colored chinos, or flannel shirts. Do you want to dress for an outdoor meeting? Pair it with a pair of jeans. Depending on the color of your blazer and the occasion you are going, you can try this route with colored jeans instead of dark-washed jeans. White jeans with blazers give a more elegant and stylish look.
As for what to wear under the blazer, a classic white button or a basic white T-shirt will never fail. Complete the outfit with a beautiful pair of shoes. Try pairing the shoes with the bottom of your formal outfit. If you wear jeans, pair them with loafers.
Final Thoughts
In everyday language, the difference between a coat and blazer often fails to recognize. Many of you may think that brick-and-mortar stores are more to blame. But even online retailers and brands sometimes misuse these terms interchangeably. This only adds to the confusion.
It knows the different characteristics of the coat vs blazer will help you choose what is right for the occasion. You can even find mixed coats and blazers to dress up or give your usual style a fresh look without creating fashion faux pas.